I've waited for this the whole Friday and even it's already Saturday in Good Old Germany I want to join this thing again before my little man messes me up...
Here are this Friday's questions which you can find over at
Mama M
.
5QF is not her only thing to join in so hop over and check
her blog
:-)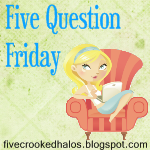 1. Are you a Black Friday shopper?
> I haven't heard of a Black Friday ever before so I just looked it up. And well, up over here we don't have a Black Friday so I'm not a Black Friday shopper at all. (But I really want to know the difference between a Black Friday and a normal Friday - if anybody could tell me, please...)
2. What was your favorite childhood toy? (Think Easy Bake Oven, Cabbage Patch Kid, Shrinky Dinks, etc.)

> Well, easy as it is as a girl: Barbie... Barbie and Ken, the Barbie cars and clothes and whatever Barbie had. So girly... [I really wished I played with cars and whatever, that would sound much more cool and not that embarassing :P ]
3. Favorite Christmas movie?

> None. I really don't like Christmas movies and whenever they are around on TV I'd rather read a book. I'm not that Christmas-y kind of woman/girl...
4. What is the "must have" item on your Christmas list this year?
> Health! Not getting the "new flu" or "old flu" oder any flu at all.
And ... uhm ... a nice and pretty necklace for every day as well as a graphic program.
And love :-) Of course!
5. Do you all go out with decorations or do you keep it simple and classy?
> As mentioned I'm not very Christmas-y so I keep it simple, very simple. Some more candles and stars and Santa Claus around, that's it.
I hope I'm able to read some other answers but I always have fun with this thing :-)
So now I'll wake up my little man and get him ready for the day...
Enjoy the day and have fun!