Oh, it's Friday again. The week flew by quite fast, don't you think? But I'm glad the weekend's here. D will have a trial-sleep-over at my in-laws and we're going out with some friends tomorrow night. I'm so looking forward to it and hope that D will sleep well...
Now, time for
Mama M.
's
5 Question Friday
: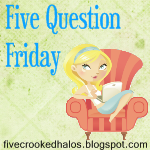 Join in
! It's always fun :-)
1. Do you sing karaoke? If so, what is your go to song?
> I love singing. But I don't sing karaoke, just twice a year at a friend's party on PS2. I feel quite uncomfortable standing in front of foreigners and perform a song. I'd prefer singing at home, just for myself...
2. What is your favorite coffee drink?
> Starbuck's
White Chocolate Mocha
, l-free, no cream. Nothing better... Damn, I want one. Now! ;-)
3. If you could choose your own name, what would it be?
> Zoe. Or Sophia. Or Joyce. These are the names that I really like...
4. Were you ever bullied?
> Yes. More often than I wished to... Too often I think. Not now. I'm strong and a different person now so I guess that won't happen to me again. I hope so!
5. How often do you eat fast food?
> You mean, real fast food? Like KFC and Burger stuff and so on? Maximum 3 times a month. I'd rather cook or grab a take-away at an Italian or Chinese restaurant. But I won't call this fast food coz the nutrition is different (and I'm full up afterwards...).
Enjoy your weekend and have fun! :-)