Yay Friday again. I'm sitting here with a glass of red wine, a chocolate pudding and I'm tired. Just preparing for my birthday party tomorrow and I'm glad that my son is already in the land of dreams :-)
So here we go with
Mama M.
's
5 Question Friday
. Again, maaaaaany Christmas-y questions... Well let's see how I can handle it.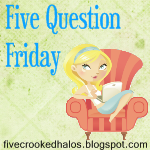 1. Does Santa wrap the presents he leaves at your house?
> Well up over here Santa's coming on 6th December. At Christmas the "Christkind" is bringing the gifts (Christkind and Father Christmas/Santa does mean the same as I learned from
LEO
...) but yes the gifts are always wrapped.
2. When is your "big" Christmas celebration...Christmas Eve or Christmas Day? Tell us about it...
> Christmas Eve (24th December). That's usual here in Germany. We have a nice dinner, singing Christmas carols in front of the all made up tree and then sit down and unwrap our gifts. We eat cookies and have some fun together. Some do go to church after that: it starts about 10pm and it's a long and wonderful service; in the end they switch off the lights and only candles are glowing in the dark, the priest and ministrants are kneeing and then it's time for singing "Silent Night" - very emotional... (There's a kid's service in the afternoon, too for families.)
3. Are you big on keeping tradition every year?
> Yes! I love traditions. And I think it's very important that we keep those traditions within the family.
4. Do colored lights or white lights tickle your fancy?
> White lights. Simple like that.
5. Do you decorate outside your house for Christmas?
> No. As we do live in a 2 bedroom apartment we won't decorate outside. We have a glowing tree in the window for those people who're passing by. That's it.
But I really love passing by a made up house - lights, Santas and everything - I do feel like a kid again :-)
Happy Weekend!