Yay, Friday and it's time for
Mama M.
's
5 Question Friday
.
Join in
:-)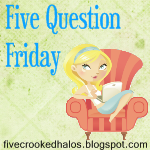 5QF is my bedtime sweets every Friday and so here we go:
1. What's your guilty pleasure?
> Blogging. Just like that. And playing games like Farmville and Sims.
2. What is your favorite TV series?
> Just one? Series is plural, isn't it? ;-)
I love SatC (who doesn't...) and Lipstick Jungle and Two and a half Men. I can watch them always, again and again.
3. Can you speak any foreign languages?
> Sure! English *g* and French and very few words Italian and Spanish. (Originally, I wanted to be a translator and interpreter and if I needn't go to University I'd work with translation now...)
4. How many pairs of shoes do you own?
> Not much. Really not. About 30 maybe. I don't know exactly - and I won't go and count them coz my summy shoes are stocked in the basement *gg*
5. What's your favorite kind of M&M's...peanut, almond, straight up regular, etc.?
> The classic ones. The yellow package things. Those are the REAL M&M's.
I want some. Now. Damn :-(
Have a wonderful weekend!