Things that make my day on monday are very good posts of other moms.
It wasn't an easy decision but I chose the open letter
"Dear Crazy Wal-Mart Lady"
by
Josiah's Mom
.
Why? Because she's just talking right from my mind. This letter seems funny but the situation it describes isn't funny at all.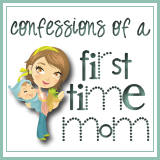 Josiah's Mom
, thank you for the open letter as I'm totally with you!
And I really love your blog itself. Your posts are always a good read and speak out of my mind...
Have a great day moms out there and keep writing more inspiring and open posts and maybe you will be thank-ed for it here next monday :-)