Yay again it's time for the 5 Question Friday by
Mama M
.
Check out this week's questions
here
:-)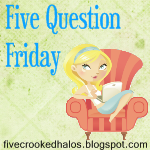 1. Favorite gift you are GIVING this year?
> Puh. I have no idea. I didn't have any gifts yet *panic* Does LOVE count? I'm giving love to my husband and son... But who doesn't? For me love is the best gift someone could give and get!
2. How many parties are you attending between now and Christmas?
> Christmas parties or other parties? I'm not attending any Christmas parties. It's not common here. We do go to Christmas markets, drinking Glühwein (hot wine punch).
The only party I join will be my birthday party next week. Nothing else.
3. What is your favorite Christmas song?
> "Wonderful Dream" by Melanie Thornton. I sooooo love this song! (watch on
YouTube
)
4. Who was your favorite elementary school teacher and why?
> Uhm... I'm honest. I don't remember anything from that period. I just remember getting my first kiss from a nice boy. But I don't remember any teachers or something. But maybe it was the German teacher. It's sooooo long ago - about 20 years or so. Damn, I'm getting old *gg*
5. If you had a choice to live in any other period of time (other than now) what era would you choose and why?
> I think the 1950's. I love petticoats and Rock'n'Roll. The music was great and they were all busy. The late 50's would be the time I wanted to live. And I liked their role allocation - men at work, women at home with kids. No pressure to earn money or be a succesful business woman. Just be a full time mother and wife and loving that job like it is.
Yes sometimes I'm very oldfashioned...
Did enjoy it again :-)
Happy weekend!