Good morning, world! Hope your weekend was great and you enjoyed the time with your family around. I did, although I'm still having this shitty bronchitis and the coughing is quite nerveracking by now - after a week. And I do have an appointment at the dentist, just checking, but I don't like going to the dentist...
So this week I will post daily! :-) Yes, just because of
Mama M.
's fantastic new idea: a week of love stories which she named
"Valentine's Extravaganza"
. You can read all about it
here
and join in to share your stories, too.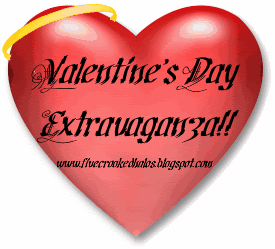 She started yesterday with
"How you met the love of your life"
. As I don't blog on weekends I'll join in this thing now. Stay tuned for the rest of our story :-)
Well, hubby and I met in a bar, the first time in real life, end of July 2007. But it all started some weeks earlier...
His then best friend - let's call her Beastie (not Bestie) - was a friend of mine, too. We met through a mate and Beastie and I got along well. Somewhen, she mentioned her very best friend and that he is quite a handsome and very nice man. From this day on, she talked about him every day! We were members of an internet community and so was he. Beastie and I sent each other some entries to our online guestbook and so he noticed me for the first time.
He was looking at my profile and asked Beastie who I am. Then she told me about this and started to talk about him even more. Hubby and I started to write emails and were chatting whenever both of us were online. We enjoyed it very much and there was a strong connection between us.
Beastie slobbered over him every time I met her. I thought that she's going to pair us off. I didn't mind either coz he really seemed to be nice.
Somewhen, Beastie and I were at the movies and after the movie she had the idea to ask what he's doing. He told her that he's in a bar with some friends. We decided to hop over to get a beer with them. I was kind of nervous but excited to meet him in real life...
When we entered the bar I saw him straight away. The bar was very crouded but he was really handsome. Beastie and him greated each other then it was my turn :-)
OK long story short, this was the first time I met him in real life and the connection in real life was as strong as online. We had quite a good time and so he asked me for a date. I was totally amazed and well, that was the beginning of our story...!
{I've got to say, Beastie isn't part of our life anymore. She wanted to tear us apart although she put us together. After hubby and I dated and it was getting serious she couldn't handle that anymore. It turned out that she was in love with him for the past few years but he turned her down. To him, she was a good friend but nothing more. As she forced him to choose between her and me, he chose me because that isn't what best friends do. Even some months later, she couldn't cope with it and was talking shit about hubby and me - acting like a dumb teenie although being nearly 30... }