Mama M. was asking about the most romantic screw up our hubby did for us, as part of her Valentine's Extravaganza.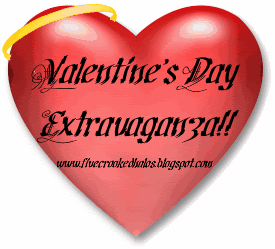 Well, I gotta be honest, I thought about skipping this thing. But I want to do it completely so I'd join in either. You won't here a good story to envy you. No rose petals on the bed. No candles. No romantic stuff which you can call romantic. I'm sure the most romantic thing he'd ever planned and did was his proposal. Really, I mean it. But that's OK for me. We had some so romantic moments which weren't prepared.
I want to tell you about one thing: his best friend's wife's grand-ma is living in Hungary, near
Budapest
. They visited her very often and asked if we would like to come with them for some days. Renting a nice car and driving to Budapest, seeing Granny and having a nice time. It was a great idea. So Ghandi (his best friend, not his real name, I call him this coz with his glasses he looks like Ghandi) and his family had one car and hubby and me another. At this time, we were a couple for about 3 months. We stayed at a hotel and Ghandi's family stayed with Granny. One night, we went to Budapest and visited
Budapest by night
. We got to the
Gellért Hill
and well, it was just the two of us. It was quiet, not crowded anymore and he embraced me and we stood there - it was really, really romantic (and would have been a nice moment to propose *gg*).
So I think that was one of the most romantic moments we've had so far...