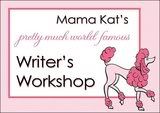 Yay, Thursday, time again for
Mama Kat
's Workshop. Hop over to get the
prompts
and join in this fun :-)
This week it was a hard decision again. But well, I decided to choose No.5:
List 10 things you never knew until you were mom
1. Diaper changing stinks. And the content of the diaper really stinks! Awful…
2. Either you're ill you have to "work"
3. You get reduced to diaper changing, feeding and cleaning
4. People (without kids) think you lost your brain when giving birth and treat you like you're dumb
5. Raising kids is a competition (oh my little one says this word and is already walking etc.)
6. Getting a drool-y kiss is so much appreciated
7. You can get worried to death for another person
8. Kids really kill cosy togetherness
9. The simplest thing (e.g. clothes-pins) is the best toy
10. Your heart could burst from love when you're toddler's snuggling and smiles at you
How about you?