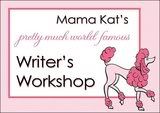 Today, it's time again for
Mama Kat
's
Writer's Workshop
. I didn't attent the last times coz the prompts were too hard for me...
This time, I need to decide between No. 1 and 5. My underdog story would have been about the
VfB Stuttgart
but just if they had won the match against
FC Barcelona
yesterday. Unfotunately, Stuttgart lost (but that was what I expected).
So I'll write about a day I'd like to relive:
There are soooo many days I'd like to relive but there's one day I really enjoyed. Not the proposal or wedding day. It was a day for just the two of us. A Saturday in February 2008.
After hubby did the proposal on Valentine's Day 2008, we had booked a weekend in the black forest to celebrate it. We had a nice appartment and on Saturday night, there was a candle light dinner. So we went for a walk that day. The air was so clean, a blue sky, not really cold and we went for a long walk. There was a deer park with roe deer, harts and sqirrels. It was really romantic. Near the park was a castle ruin and we walked back through the forrest. Then we enjoyed the rest of the day at the pool and got ready for the dinner. It was a 4-course-dinner and very delicious!