It's Friday and although it's holiday I decided to join in
Mama M.'s 5 Question Friday
.
And once again, I feel so honored that she has chosen one of my question suggestion!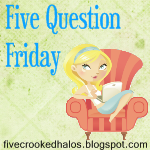 Here we go:
1. If you could bring one character to life from your favorite book, who would it be?
> This is a good question. I think it would be Amelia Sachs. She's one of the special detectives in the books of Jeffrey Deaver. And she's very tough and brave and I really would like to have a beer with her! (She was performed by Angelina Jolie in "The Bone Collector")
2. Where did you get your very first kiss?
> It was at school. I was about 8. He was one of my class mates and it happened right after the break. Very romantic *gg*
3. How did you welcome in the New Year?
> A chummily couple came over to celebrate with us. We did some raclette and played Phase 10 until it was time to get the hibiscus flowers in the champagne flutes and fill in the sparkling wine. Then we stood on our balcony with our glass of sparkling wine, watched the fireworks and had sparklers on our own. It was wonderful and we enjoyed it quite much. Then we played another game and went to bed at 4am. I'm veeeeeery tired today though :P
4. What is your favorite Beatles song?
> "Let it be" - simple as it is... Love this song!
5. Donuts: Overrated, underrated, or 'bout right?
> Overrated. I like donuts. I really do. But well, just sometimes. I could not eat them every day.
So now, I will have some soup and go to right away. I need some more sleep ;-)