Happy Valentine's Day
out there!
We just came back from our Valentine's dinner which is our Engagement Anniversary as well. We went to an elegant Italian restaurant and had a wonderful time. I did enjoy my really tasty tomato soup, the delicious self-made spaghetti with black truffles and a yummy pana cotta for dessert...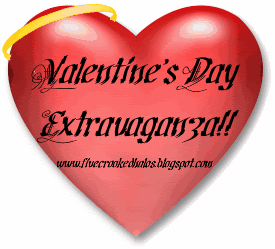 Before I'll go to bed I'm going to join in
Mama M.
's
last day of Valentine's Extravaganza
and telling you ten things I love about my wonderful hubby <3
I love about hubby that
... he's a gentleman and opens doors for me or helps me with my jacket
... he still finds me attractive and sexy after the pregnancy (gaining about 22lbs which I still carry with me)
... he can handle my temper
... he's picking up fresh buns at the bakery on Sunday morning
... he helps me with the household
... he does diaper changing, too
... he's going to work and doing overtime so I can stay at home
... he is able to accept and live with the experiences I'd made in the past
... does quite well with my family
... he loves me for what I am
Enjoy your Valentine's Day like I did and be thankful for the one who loves you unconditionally...