This, again, is part of
Mama M.
's Valentine's Extravaganza and she wants to know about our
favorite wedding memories
.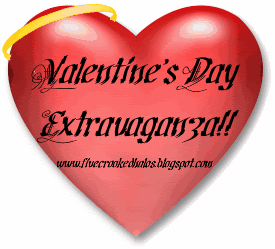 To me, it was the ceremony. Especially, when the pastor married us... It was the most overwhelming moment in my life (except giving birth) and it was like a dream coming true.
The ceremony was a very classic one coz we had a traditional (German) wedding. Our pastor is really cool and he did the service so wonderful, romantic and funny. We had the most wonderful singer around who I knew from my past singing in a choir - I totally adore her voice! After the marriage she performed
"Das Beste"
for us - this was the moment I started to cry...
I try to translate the refrain of this song for you:
>You're the best thing that ever happened to me
You make me feel so good
When you're around
I forget the rest of the world
You're the best thing that ever happened to me
It feels so good that you love me
I don't tell you frequently enough
Thank you for being there>
The rest of the day was really great, too but this is my favorite memory. As said, it was just overwhelming...
- If you would like to know more about German weddings, let me know and I will do a post about this. -
Have a nice day! :-)