So, I'm sure you remember
Mama M.
's Valentine's Extravaganza. It's time for the
engagement story
:-)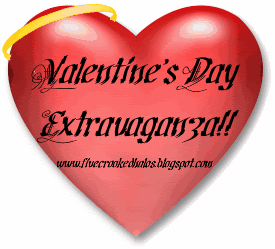 So yesterday I told you about our third date. It was the 14 August 2008 when we got a couple officially. At Christmas the same year, we spoke about getting married for the first time. We knew after a very short time that we are made for each other. And hell, we won't get younger... I was 26 and him 33 so it was time to go the whole hog ;-)
We were flying to Barcelona over New Year's Eve which we spent at the hotel room coz of food poisoning - very romantic though. But well, I think it was like a tryout. So as we were lying in bed, sleeping and puking by turns, we tried to take care as much as possible for each other. And we talked again about getting married if we pass the tryout - which we totally did- and decided to get married.
When we were home then I wasn't that sure anymore if he was really serious. So we talked about it again and he said that he wants to do a real proposal and is already planning it. Gladly, I told him that I would like to get married in summer and that I'd need half a year minimum for planning.
On Valentine's Day in 2008, we were a couple for exact 6 months now, he said he reserved a table in a nice restaurant. He didn't tell me what restaurant, only that I need to dress up solemnly. The restaurant he had chosen was a nice and elegant Italian one, at the foot of the television tower. It was really nice. Again, we were talking about the marriage stuff and I said that I won't start planning the wedding until I got the proposal and he said that he wanted to get married that year and I said I wanted to start planning and blablabla...
So after dinner, he wanted to get up the television tower. It was a veeery cold night and I wasn't prepared for that. But well, he wanted to get up and I said OK. Totally blonde, I didn't get this hint!
There were few couples standing up there and the wind was cold and it was so foggy. It could have been very romantic but the fog ruined it all. So he was embracing me and after a while he said: "Babe, uhm.... can I get a kiss?" So we kissed, still embraced. Then: "Babe, uhm.... would you like to marry me?"
Then everything made sense... I looked in his eyes, he was nearly crying and I didn't expect him to ask me that day. I was crying, too and all I could say is "Yes, I do.". So we kissed and then he broke out the jewel case and presented me the ring. He had this caseket in his trouser's pocket the whole night and I didn't notice it.
The ring was very simple, white gold with just one bling. Wonderful! (In Germany, it isn't usual to get a bling ring like in the USA. Usually it's a simple silver ring which both are choosing so that they both wear an engagement ring...)
So this was how I got engaged and every Valentine's Day we keep the tradition of having dinner in that restaurant and afterwards go up on the television tower :-)