Yay Friday and time for
Mama M.
's
Five Question Friday
:-)
Join in, it's always fun!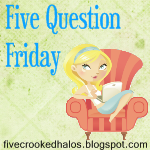 1. What was the first car you owned?
> A white Ford Fiesta, year of construction was 1993 as far as I remember. When I bought it in 2001 it was quite old and had already some buckles and rust. I had it until 2003 when the motor broke for good.
2. What song are you embarrassed to know the lyrics to?
> Blümchen "
Boomerang
" - this was a nice song in the 90's, when I was a teenager. I heard it some days ago and I still knew all the lyrics - very embarrassing!
3. Have you ever had stitches?
> Uhm yes. I broke my thumb when I was 4 (don't ask me how) so I got a wonderful scar there. And on my right foot as well.
4. What was your first job?
> It was a job when I was 13 and it was paper deliverer. I hated it!
5. Who is your favorite Sesame Street character?
> Oh damn, that's quite a looooooong time ago. But I remember a pink snail called Finchen - she was soooo cute and bff of Samson, the blue bear. (I'm not sure it the German characters are the same than the American...)
Have a wonderful weekend! :-)